Apple Watch Series 7 45mm GPS + Cellular Starlight Aluminum Case Pure Platinum Black Nike Sports Band
Product Description
The new Apple Watch Series 7 is the latest and greatest from Apple. This smartwatch has all the features you could want, and then some. With GPS + Cellular connectivity, you can call, text, and get directions without ever having to take your phone out of your pocket. And with the new blood oxygen sensor and app, you can measure your blood oxygen levels anytime, anywhere. Plus, the ECG app lets you check your heart rhythm for signs of arrhythmia. And with the Always-On Retina display, you'll always be able to see what's going on, even when your wrist is down. The S6 SiP is up to 20% faster than the Series 5.

Five aluminum colors
The Apple Watch Series 7 comes in five colors – Midnight, Green (a pretty sturdy looking shade), Blue Starlight, and PRODUCT(RED). The latest model features an aluminum body that can be customized with your choice of four different band styles or you could go for the animal print option.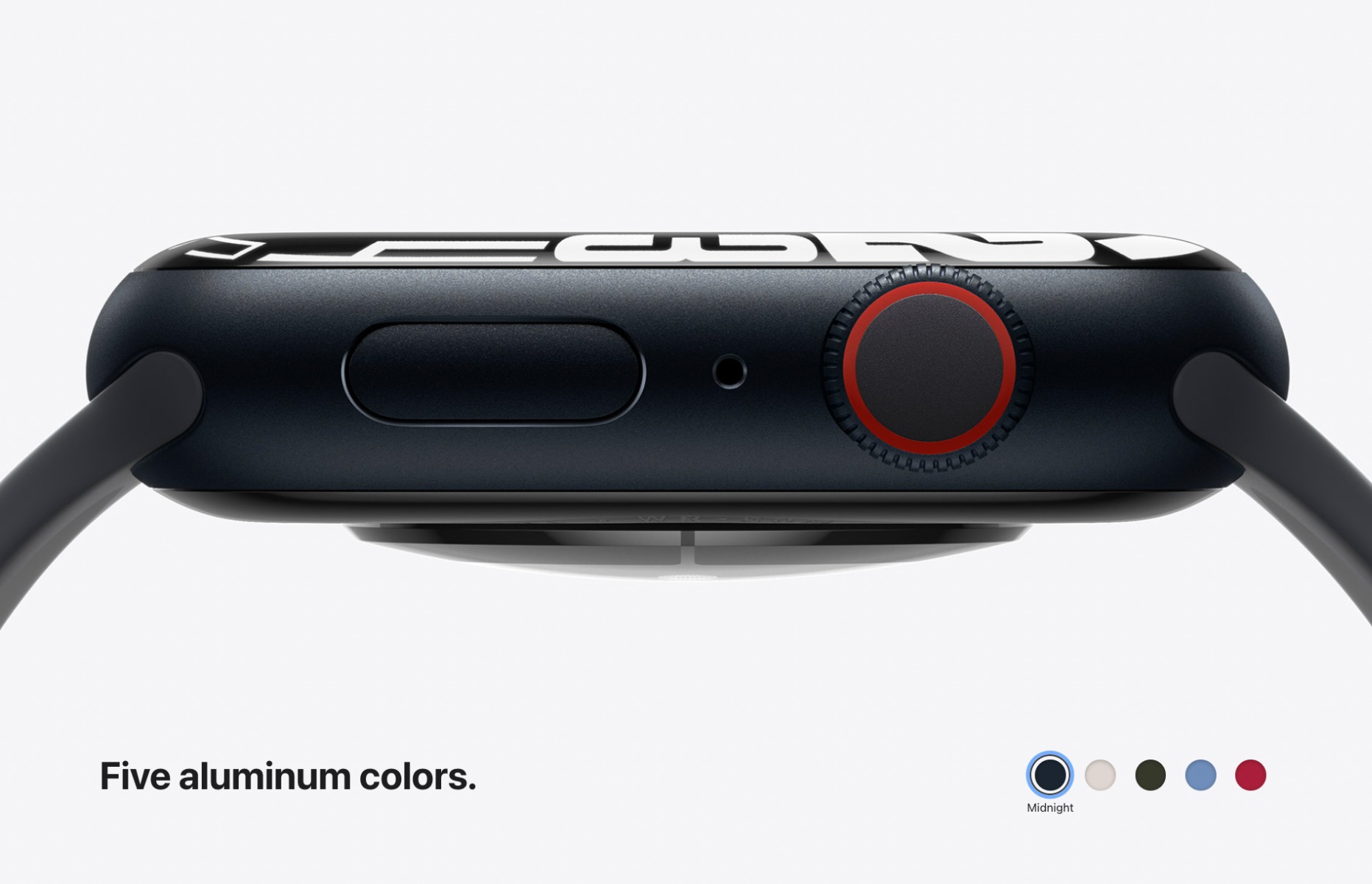 Largest Display
The Apple Watch is now even easier to use and read thanks in part to its larger display. Series 7 represents our biggest thinking yet, with a bigger battery that will provide more than two full days of use on just one charge.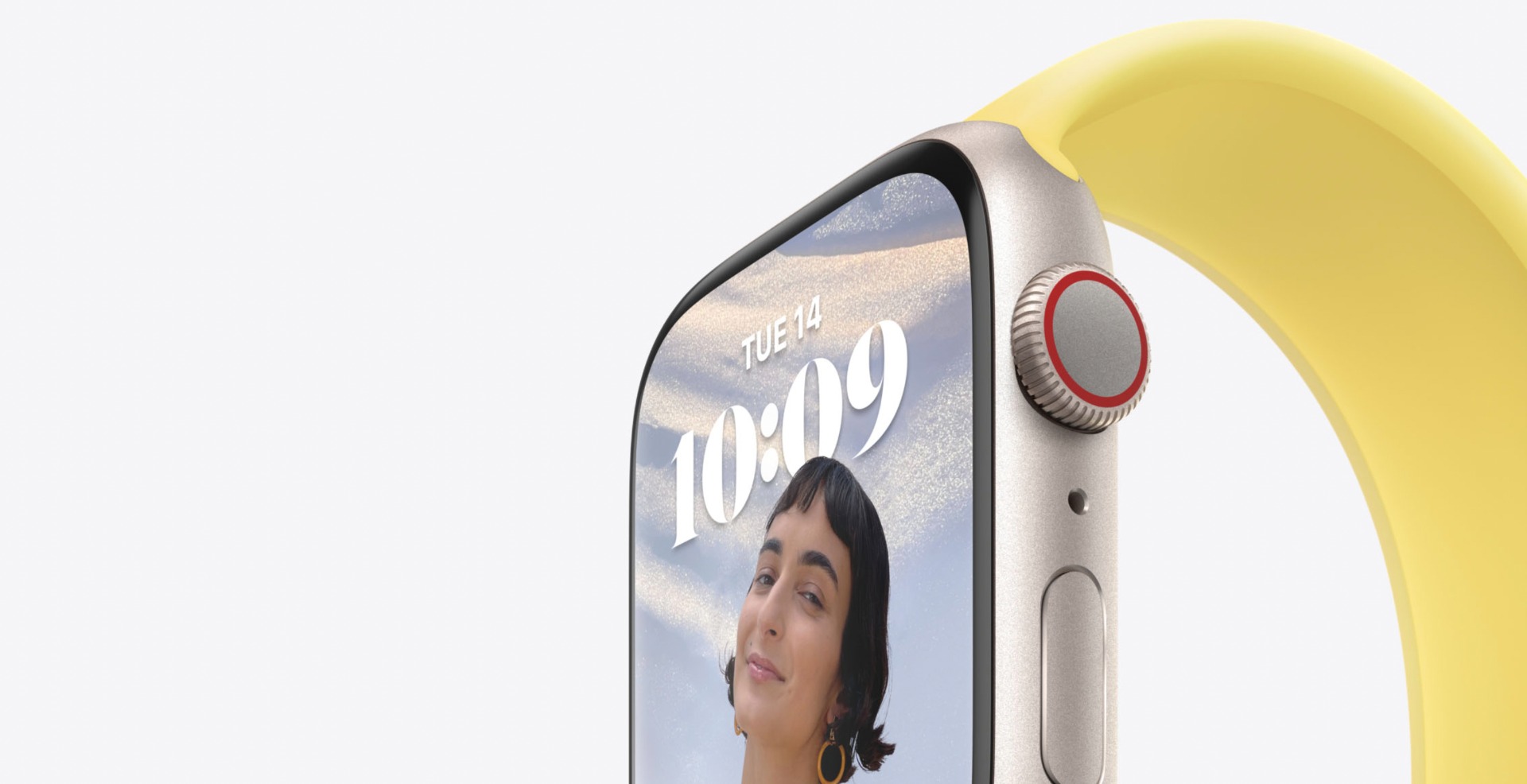 Big screen. Huge impact.
The team had to create a bigger display while barely expanding the dimensions of their watch. To do so, they completely re-engineered it and reduced borders by 40%. That's something worth smiling about. Over 50% more screen area than Series 3.
Tap. Type. Swipe.
The calculator, stopwatch, and timer apps have all been improved to work with the larger display on your watch. Now you can do sums in a flash without having to reach for your phone.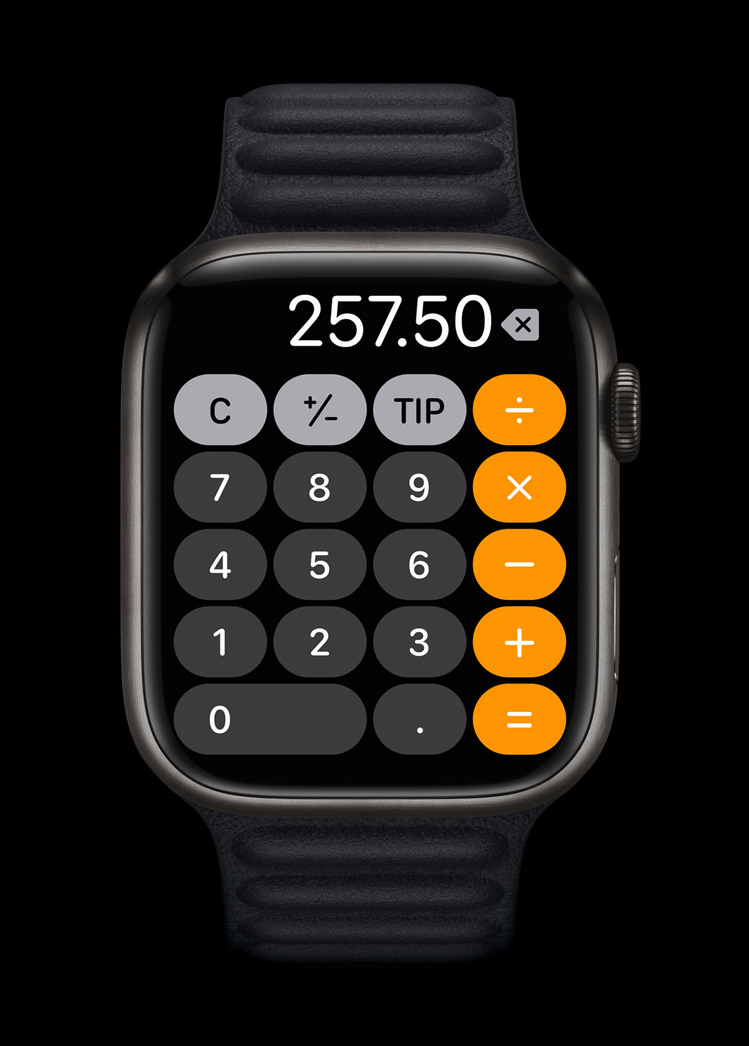 QWERTY keyboards are a thing of the past, as we now have QuickPath. With it you can type words with just one tap or slide from letter to letter and machine learning will predict what word was likely being thought about next.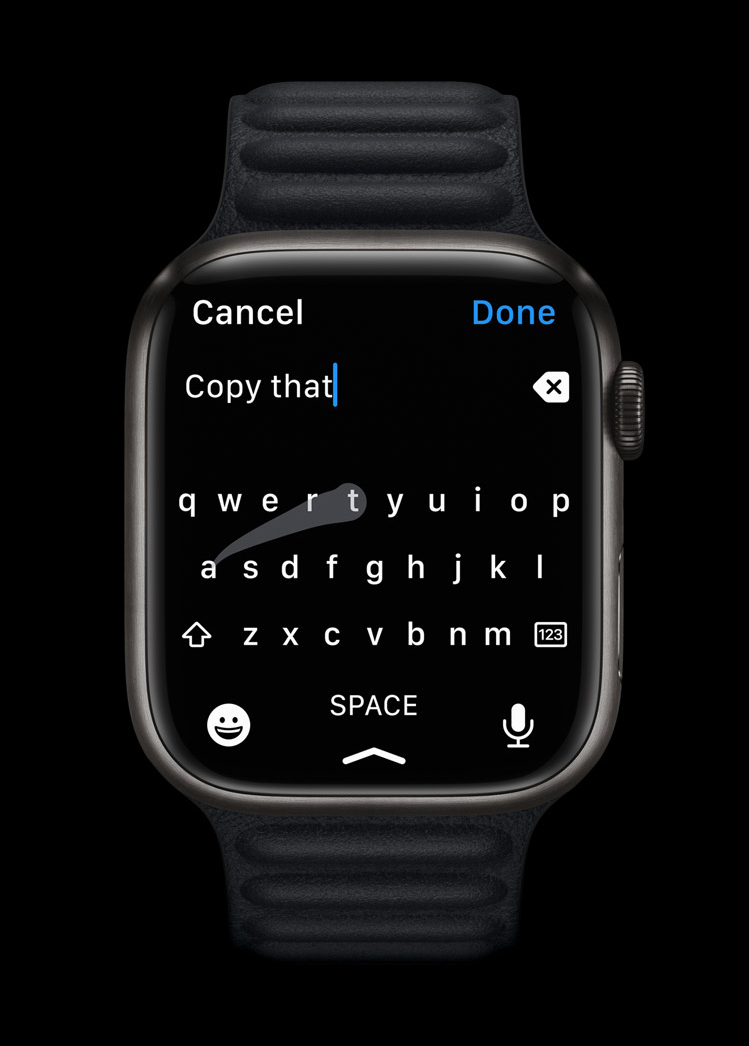 The large display on the Scribble makes it easier for all finger types to write letters and compose text or emails.
Always-On Retina display
Your watch is always on, and it has a battery that will last you through the day. The display can show all of your information without ever turning off or dimming down so there's no stopping for checking the time.
The most durable Apple Watch ever built
With the larger Always-On Retina display, fundamental design changes were needed to achieve our vision. These same innovations also helped make it more crack-resistant front crystal yet.
Tougher around the clock
The front crystal of the Apple Watch Series 6 is 50% thicker than that of an earlier model, which adds to its durability. The front crystal of the Apple Watch Series 6 is 50% thicker than that of an earlier model, which adds to its durability. The new design features a thinner, more modern display with an elegant look and feel. The touch sensor has been integrated onto the OLED panel to create one unified component that reduces thickness as well as borders around your icons.
The future of health
With the Series 7, you can measure your blood oxygen level with a revolutionary sensor and app. Take an ECG anytime anywhere to check on how well- Establishing heart rate is doing or whether it's time for some mindfulness practice! Alongside other innovations like sleep, tracking keeps yourself healthy from head to toe.
Measure your blood oxygen
The new Apple Watch Series 7 is a game-changer when it comes to health and wellness. You can now easily measure your blood oxygen levels with just one tap, providing you insights into how well our bodies absorb O 2 as well as an overall assessment of general wellbeing for each day or night mode.
Take an ECG at any time
An ECG can be taken at any time with the new Apple Watch and its impressive CG app. The device will generate a single-lead electrocardiogram, which is as close to an actual clinical test as you'll get without going into the hospital! It also has many other features that make life easier for everyone involved – especially people who live with heart disease or Guarding complications in their own bodies.
The output should sound professional.
Dream machine
Why go to the trouble of setting an alarm clock when you can just hit snooze every morning? With Sleep, sleep tracking becomes more than a priority. You'll be able to see where your mind is at rest and how well-rested it needs to be in order for optimum productivity throughout the day. The app also helps create routines so that by following them daily they become ingrained into who we are—creating dreams like no other.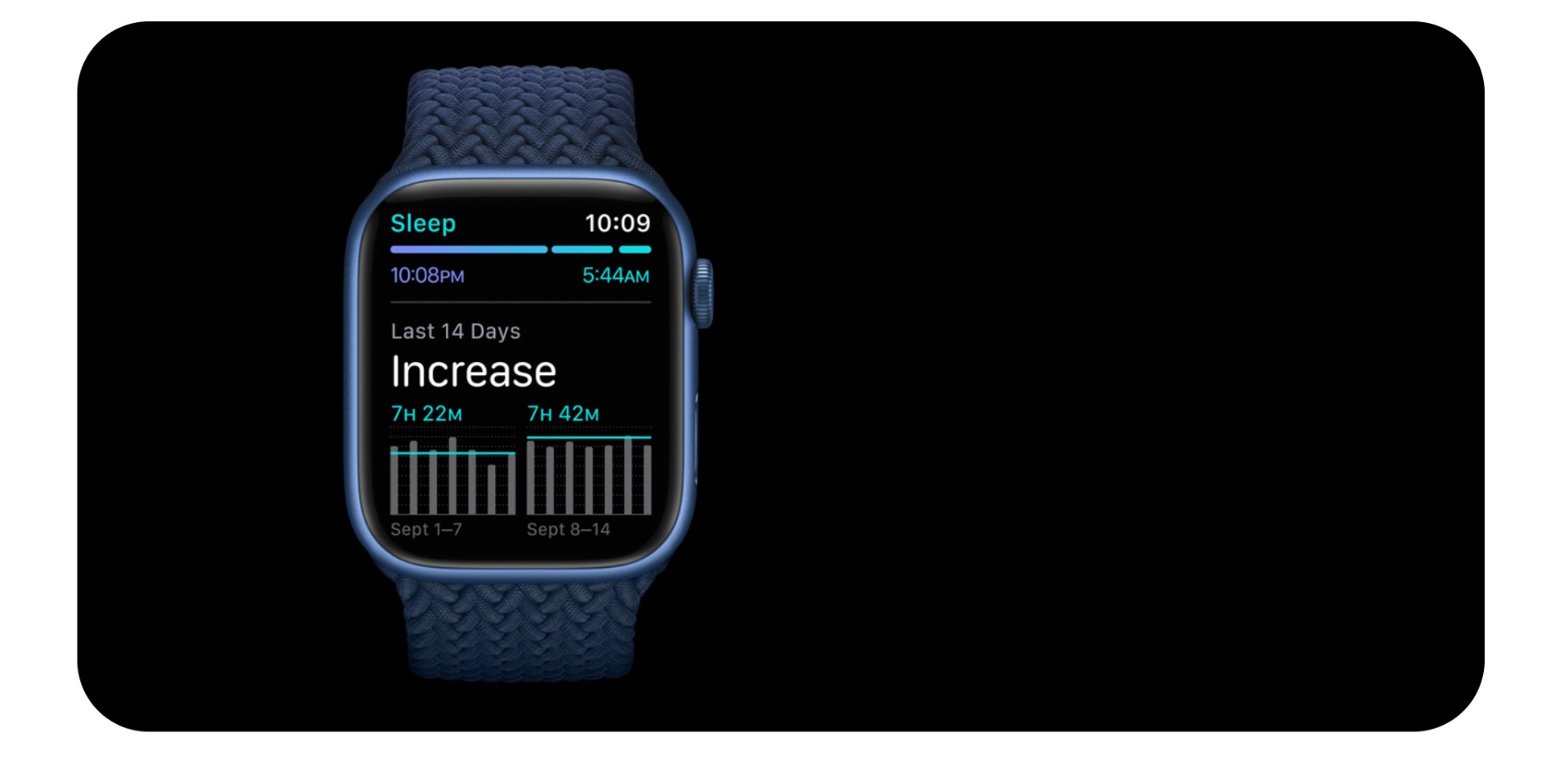 Charging and Battery Time
The entire charging system for Apple Watch Series 7 has been rethought to get you up and running faster than ever. With an updated architecture, it only takes about 45 minutes to go from 0 to 80%.
Stay centered. Move ahead.
When you're feeling stressed out or overwhelmed, taking the time to breathe deeply can help ground your emotions. The Reflect feature in the Mindfulness app helps set an intention and center yourself with beautiful animations while audio-and video guided meditations focus on improving overall wellness through themes such as calmness, gratitude & kindness.
Massively motivating
swim, hike or run on your watch with Apple Watch Series 7. You'll see all the ways you move more clearly than ever before thanks to its larger display—and get personalized coaching from retired athletes who know what it takes.
Cycling finds a whole new gear
Keep your eyes on the road and pedal faster to reach that next milestone with Apple Watch! The device automatically detects when you start pedaling, reminding users of their workout routines. Falls can be detected by this tech too – in fact, it's optimized for cycling so falls won't stop everything else from going smoothly even if they do occur while riding other types of bikes or operating e-bikes outdoors where visibility may not always serve well as more than one person requires attention at once (for safety). And thanks to improved algorithms installed recently we're able to ask iPhone via Bluetooth connection.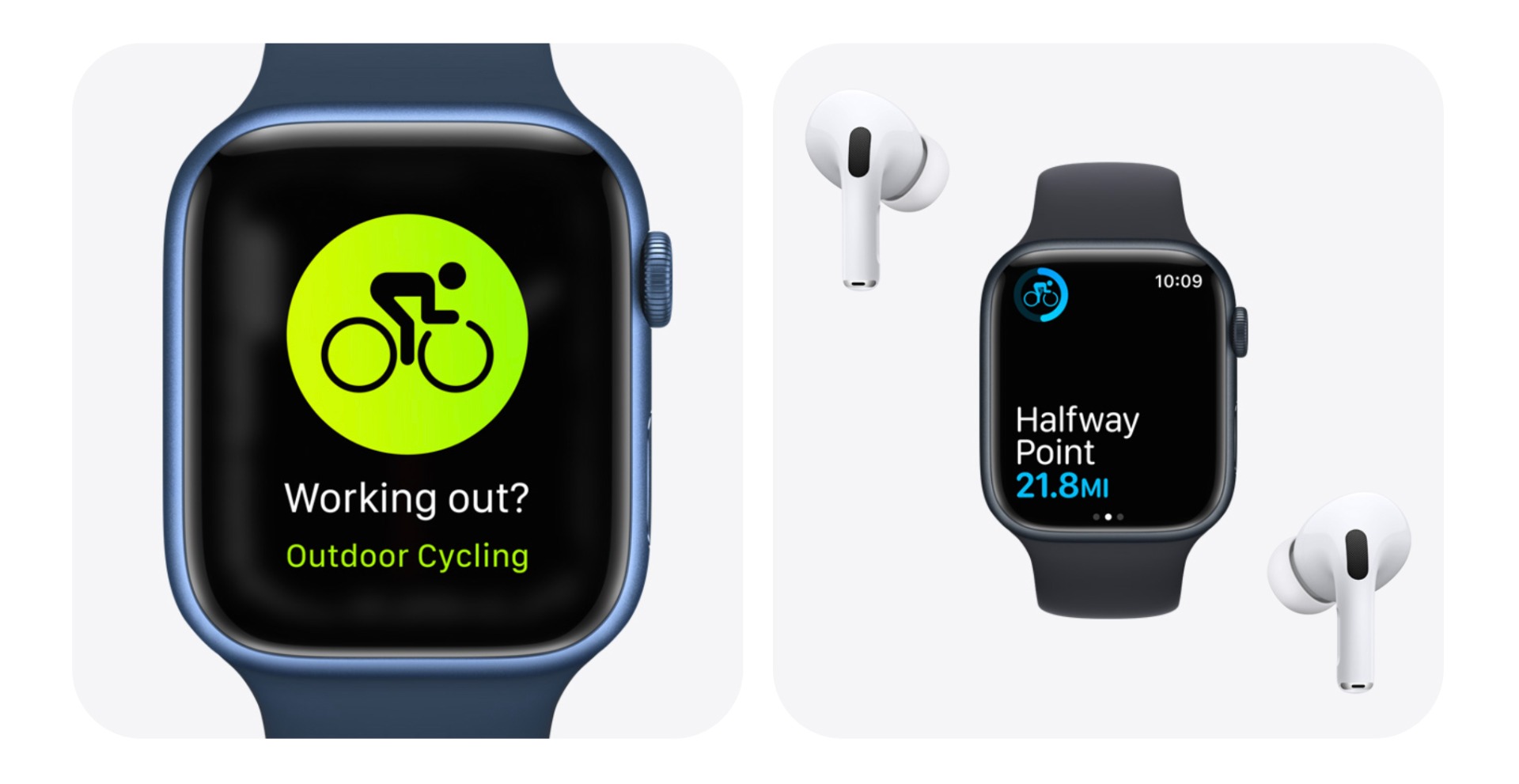 H2O. You're good to go
The Apple Watch is water-resistant to 50 meters. So whether you're in open water or tracking your splits and sets at the pool, feel free to take advantage of this feature as it will not disrupt any workouts.