Huawei Smart Watch D 51mm Molly-B19 – Graphite Black
| | |
| --- | --- |
| Brand | HUAWEI |
| Item No | 86310858 |
| Model | WATCH D (MLY-B10) |
| Type | Smart Watch |
| Color | Graphite Black |
| Display | 1.64 inch AMOLED Full Touch |
| Resolution | 456 x 280 p |
| Watch Case | Graphite Black Aluminium |
| Strap Width | 30 mm |
| Strap Material | Fluoroelastomer |
| Waterproof | Yes |
| Connectivity | Bluetooth 5.1 |
| Heart Rate Sensor | Yes |
| Temperature Sensor | Yes |
| Pressure Sensor | Yes |
| Buttons | HOME Button, HEALTH Button |
| Wireless Charging | Yes |
| System Requirements | Android 6.0 Or Later, iOS 12.0 Or Later |
| Battery Life | Typical Usage: 7 Days |
| Dimensions | 51 x 38 x 13.6 mm |
| Weight | 40.9 g |
| Warranty | 1 Year |
Information of Huawei Smart Watch D 51mm
Ultimate Comfort
HUAWEI WATCH D packs intricate blood pressure components, like a mini pump and airbag, into a highly-compact form. The 2.5D curved glass shimmers and glimmers with each turn of the wrist, complementing a durable aluminum alloy frame, with two handy buttons to take you to your tasks.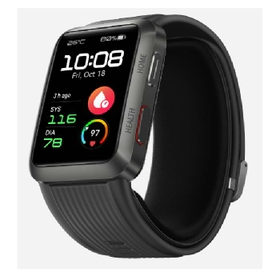 A Work of Accuracy
HUAWEI WATCH D features a margin of error within ±3 mm Hg, made possible by a high-precision pressure sensor, meticulous pressure feedback controls, and less air-resistance. The macromolecular tensile strap, ergonomically-arced airbag, and butterfly clasp, are all designed to remain stable during inflation, to enhance the precision of impromptu blood pressure readings.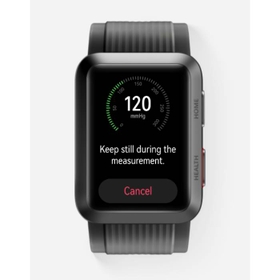 Measurement that Tells You More
HUAWEI's proprietary HUAWEI TruBP blood pressure algorithm, which is based on a cascade model and different blood pressure patterns, makes HUAWEI WATCH D sensitive and considerate to the wearer's every need, with smart measurement assistance, abnormal posture detection, and a host of other high-level capabilities.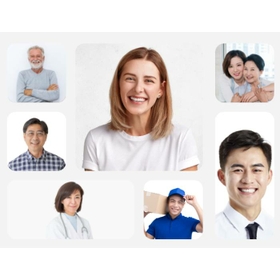 Smart Blood Pressure Reminders
HUAWEI WATCH D allows you to set customized measurement plans, based on which it will send out blood pressure reminders at scheduled times, such as wakeup and bedtime, so that you can stay on top of your blood pressure as soon as it changes.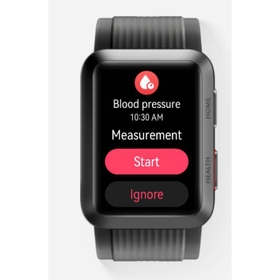 HUAWEI TruSeen 5.0+ Heart Rate Monitoring
HUAWEI TruSeen 5.0+ heart rate monitoring technology deploys eight photoelectric sensors deployed in a ring formation, with two groups of light sources, to boost anti-interference capabilities by converging different signals. The watch's ergonomic sapphire rear case curves gracefully around the wrist, while substantially reducing light interference. An updated algorithm tracks heart rate with greater precision via high-fidelity signal processing, with PVD-coated electrodes6 to provide a comfortable, skin-tight fit, for enhanced ECG readings.