Xiaomi Mi WiFi Range Extender Pro – Black
| | |
| --- | --- |
| Brand | Xiaomi |
| Model | WiFi Range Extender |
| Model No | R03 |
| Color | Black |
| Weight | 100.00 g |
| What's in the Box | Mi WiFi Range Extender Pro | User Manual |
Information of Xiaomi Mi WiFi Range Extender Pro
The Mi Wi-Fi Range Extender Pro provides users with a fast, easy, and reliable wireless connection to access the Internet in every corner of the house. It comes with a pre-set network name and password, making it easy for users to plug in and start using it right away. Through its unique plug-and-play feature, users are able to establish stable connections in the most convenient location for the best signal quality and coverage. Once connected to the router, the extender will automatically download a Dynamic Domain Name Server (DDNS) address from www.mi.com or a Dynamic Host Configuration Protocol(DHCP) server from your local Internet Service Provider (ISP). Users can also configure their own DDNS address by visiting http://ipinfo.mimax.net for more details about their MIUI settings or adjusting the settings via our mobile app as well. It supports 2.4GHz (300Mbps max) transmission to give you a seamless sharing experience while surfing the web or watching your favorite shows.
Support Up to 16 Devices
Mi Wi-Fi Range Extender Pro is always ready to give you a faster network connection. It's simple, convenient, and extremely safe. Supported by the new 2×2 external antenna, Mi Wi-Fi Range Extender Pro maintains a transmission rate of 300Mbps while also increasing signal stability. With it, you can now connect up to 16 devices at the same time to an existing router and enjoy a speedy network – even in your bedroom! Also, the Mi Wi-Fi Range Extender Pro is extremely easy to install. Just download Mi Home from the App Store or Google Play and install it on your smartphone to get started. Packed with advanced features, this Wi-Fi extender is convenient for you to watch online movies and videos effortlessly from anywhere in the house. Besides its 2×2 external antenna, it supports up to 16 devices' wireless connection at the same time, which means you can connect your phone, tablet, or laptop wirelessly to Mi WiFi Router or any other router at speeds up to 300Mbps. Moreover, its Mi Home app allows you to easily set up and manage the extender.
Boost Your Wireless Network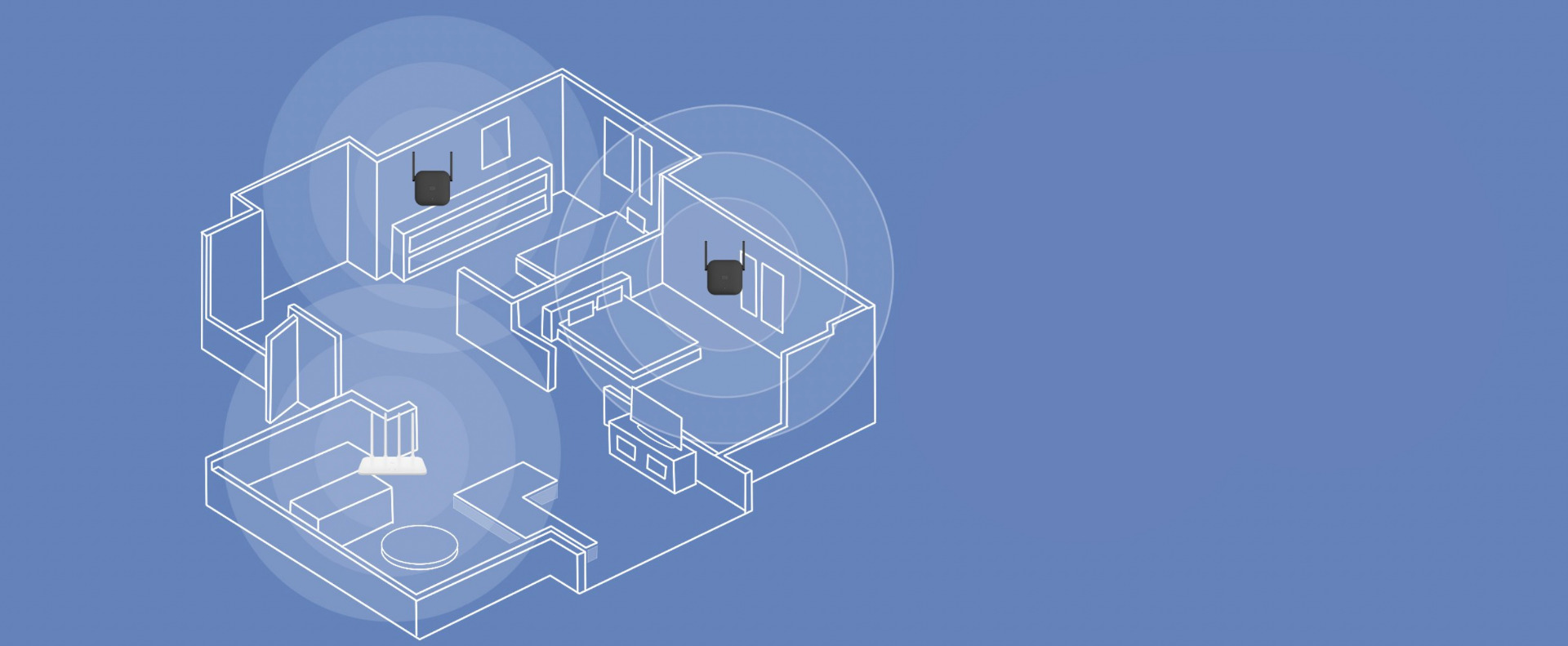 The Mi Wi-Fi Range Extender Pro extends the wireless network signal across larger areas. Equipped with two external aerials, the range extender ensures enhanced signal quality and extends Wi-Fi to everywhere in your home. With an easy setup using your existing router, you can get a better connection to more devices. Bridging the distance between routers, and range extenders boost the signal of your wireless network and widen its coverage. The tiny Mi Wi-Fi Range Extender Pro can be used to cover more areas using a convenient wall-plug design―it is equipped with two external antennas and a 6dBi connection for strong delivery power. It supports multiple wireless standards (IEEE 802.11b/g/n) and delivers speeds of up to 300Mbps. Pair it with the Mi WiFi Router (3C) or other standard routers, and rest assured that the connection remains seamless, no matter where in your house you are or what device you use to connect. You can even review its real-time status on your smartphone.
Xiaomi Mi WiFi Range Extender Pro Best price in Kuwait