Xiaomi Mi Ionic Hair Dryer H300 Hair Dryer 1600 W
| | |
| --- | --- |
| AC input frequency | 50 |
| AC input voltage | 220 |
| Air speed | 20 |
| Colour | White |
| Concentrator nozzle | Yes |
| Cool shot function | Yes |
| Depth | 77 |
| Designed for travel | Yes |
| Diffuser nozzle | No |
| Height | 215 |
| Housing material | Plastic |
| Ionic function | Yes |
| Manual | Yes |
| Number of heating levels | 2 |
| Number of nozzles | 1 |
| Number of speeds | 2 |
| Package type | Box |
| Power | 1600 |
| Product colour | White |
| Quantity per pack | 1 |
| Surface coloration | Monochromatic |
| Weight | 498 |
| Width | 135 |
General specifications
Manufacturer
Xiaomi
Model
CMJ02ZHM
Power
1600 W
Cable length
1,7 m
Power supply
Input parameters
220V ~50/60 Hz
Power supply
From the mains
Appearance
Height
215 mm
Width
77 mm
Length
135 mm
Weight
498 g
It turns out that you can dry and moisturize your hair at the same time, leaving it smooth, shiny and manageable. The Mi Ionic Hair Dryer, with its touch button and built-in ionization feature that protects hair from damage, does the job perfectly. Compared to conventional dryers, the Mi Ionic Hair Dryer increases hair smoothness by 71% and shine by 9.7% (with similar wattage, voltage and identical airflow mode). Protecting against overheating and burning, moisturizing and shining clean hair, concise design and ease of use, the Mi Ionic Hair Dryer does it all.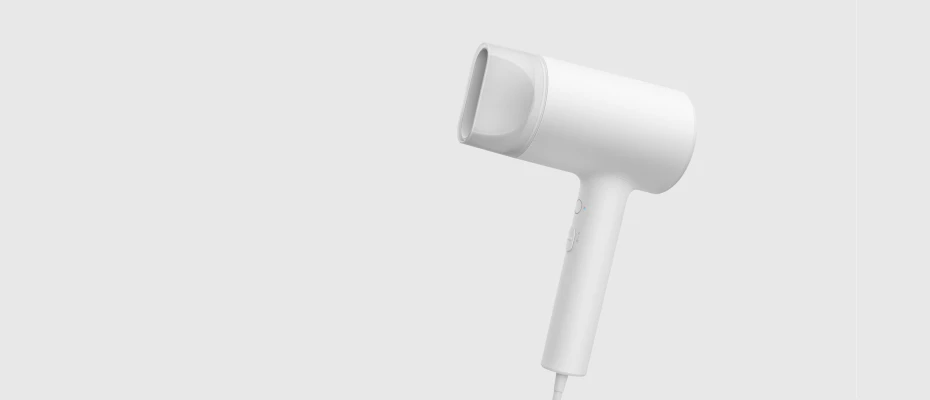 Advanced technology for healthy hair
The Mi Ionic dryer'sbuilt-in capacitor converts moisture particles from wet hair and scalp into negatively charged ions, which are distributed to the hair through the air stream. Completely covering the hair, from root to tip, the charged particles eliminate static and provide effective hair protection. The ions are formed in a special chamber that insulates them from the heat of the motor, allowing them to penetrate deep into your hair. Your hair becomes more manage able and shiny, just like in a shampoo commercial or a picture in a glossy magazine.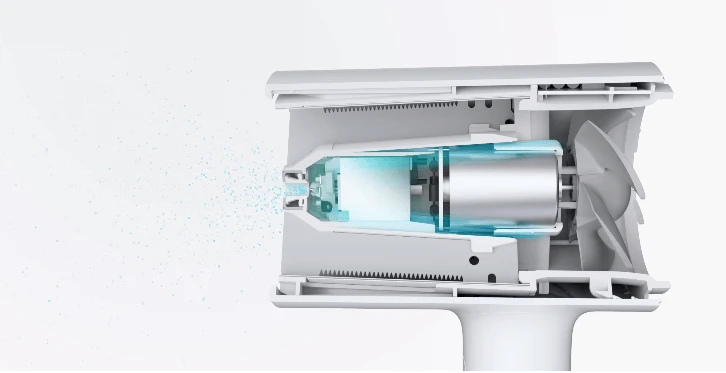 Temperature control
A powerful airflow(20,000 rpm, 1.6 m³/min) combined with intelligent temperature control helps you dry your hair quickly with alternating waves of hot and cold air. You won't overheat your head, which helps keep your hair healthy, strong and shiny.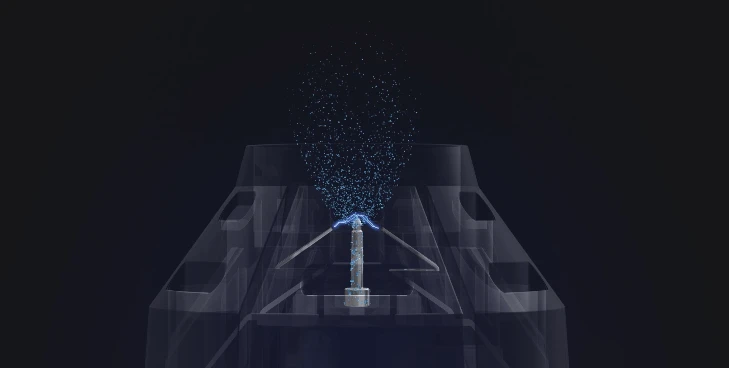 Low noise level
Are you trying to avoid using your hair dryer at night and early in the morning so you don't wake up your family? Don't like drying your hair often because you are annoyed by the constant, annoying noise? With the Mi Ionic hair dryer, you can forget about your troubles. Each of the six motor blades, manufactured by Japanese company Mabuchi Motor, has undergone a dynamic balancing process to minimize noise. Go to work and go to bed without the slightest annoyance to others, take your hair dryer to the pool and gym – you won't bother anyone.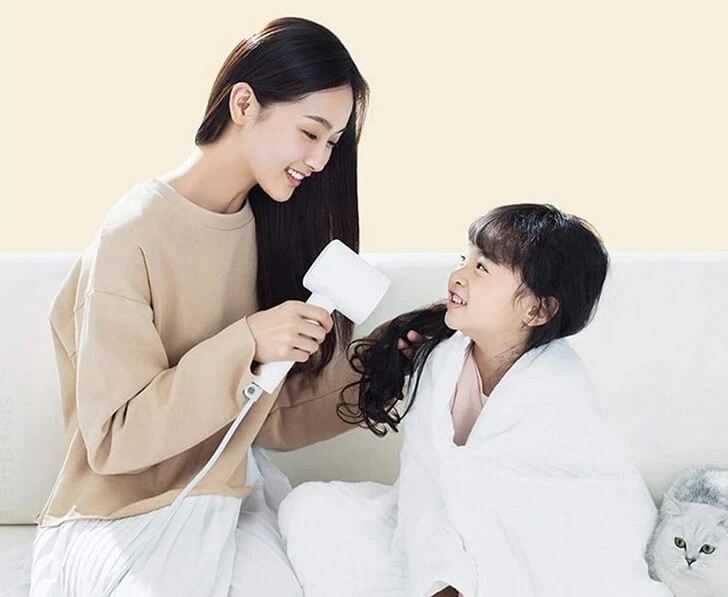 Double overheating protection
A thermostat and fuse are built into the dryer to protect it from overheating. If the temperature exceeds a safe level, the power to the dryer is automatically cut off, extending the life of the dryer. Thanks to the fuse, the unit will stop working when it heats up to extreme temperatures.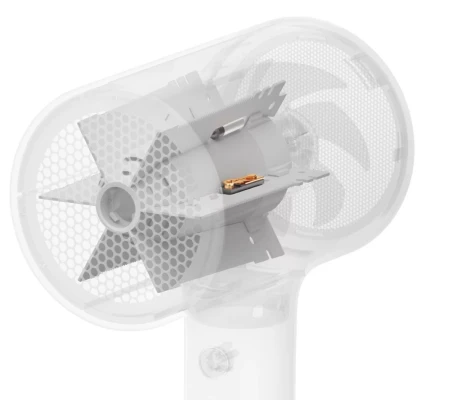 Lightweight, compact, easy to use
The lightweight and sleek design of the Mi Ionic hair dryer is another great feature. Now you can dry and style your hair effortlessly. The 360° magnetic nozzle protects your head from burns and easily handles even sophisticated styles with its concentrated airflow and dual-layer design. Its light weight and compact size make it easy to hold with one hand and take with you on trips, its special UV coating protects it from dirt and mechanical damage, and its minimalist design fits perfectly in any bathroom or bedroom.