Xiaomi Mi Vacuum Cleaner G11 UK – White
185 AW Powerful Suction*
Super-efficient cleaning
Multi-surface Brush Head
Better at cleaning carpets
Tangle-free Technology
Keeps you away from the hair-tangle problem
Smart Suction Power Adjustment
Intelligent and long-lasting cleaning
60-minute Long Battery Life*
Easier to clean a large house
Interactive LCD Display
Visualized operations for easier uses
High Performance & Cutting-edge Technology Brings More Efficient Cleaning
185 AW Powerful Suction* Provides Super-efficient Cleaning
Xiaomi Vacuum Cleaner G11 is equipped with the newest high-performance DC brushless motor with both higher speeds and longer service life. It can deliver up to 185 AW suction, which is 23% higher than the previous generation, boasting even more powerful cleaning.
Multi-surface Brush Head Easily Handles Any Kinds of FlooringsThanks to its newly upgraded brush head, the vacuum cleaner can more efficiently and easily clean various floorings in the home, including wooden flooring and carpets.



Tangle-free Technology Lets You Say Goodbye to the Tangled Hair
The roller brush is equipped with three-section blades, which automatically cuts off any hair that gets tangled on the roller brush but is safe and damageless to your floors or carpets*.
Lithium-ion Polymer Battery Cells with High Energy Density Provides 60-minute Battery Life & Makes it Easy to Clean Large House
Fully upgraded lithium-ion polymer battery cells offer a much safer and more stable performance, and the long-lasting battery can free you from frequent chargings.
Amazing Features for Efficient Cleaning
Smart Suction Power Adjustment
Infrared Particle Sensor Detects the Dust Level and Adjusts the Suction Power OutputThe vacuum cleaner can intelligently adjust its suction power via its infrared particle sensor when in Auto Mode. The more dust is detected, the more suction power is applied, and vice versa. This can improve cleaning efficiency and extend the battery service life.

Automatically Adjusts Speed Based on Various of Floorings
The vacuum cleaner can adjust its speed based on the sensor's data in Auto Mode. When encountering surfaces that are difficult to clean like deep-pile carpets, it will automatically increase its motor speed to improve cleaning efficiency.
Replaceable Battery Design* Offers Continuous Cleaning Without Waiting
Boasting a large capacity battery, the vacuum cleaner also supports a quick battery replacement. When the battery is run down, the replaceable battery can help you double the cleaning time instantly, no need for waiting.
*This product comes with one battery. The replaceable battery is sold separately.
Dual-layer & Multi-cone System Separates Dust from Air & Delivers Powerful Suction
With a dual-layer and multi-cone design, the vacuum cleaner fully utilizes the filter assembly's internal space to separate the invisible particulates from the air and send them to the dust compartment. This can effectively prevent the filter from clogging, keep the vacuum cleaner maintain suction power, and help the motor work for longer.
99.5% Filter Efficiency* Helps Deliver Cleaner Air & Brings a Healthier Life
The environment we live in is chocked with not only dust but also various allergens that adversely affect our health. Equipped with multi-layer filtration, the vacuum cleaner can effectively filter various allergens as small as 0.3 microns at a success rate of up to 99.5%. So G11 will bring a healthier life for you.
A Thoughtful Design That Has Fully Considered Your Needs
Interactive LCD Display Helps You Know the Real-time Working Status
The Interactive LCD display can provide information such as 3 suction modes, battery level, and error alerts. It helps you keep track of the vacuum cleaner's status at all times, making the vacuum cleaner even easier to use.

Auto Mode

Turbo Mode

Eco Mode

Error Alerts
Easy-to-Empty Dust Compartment Keeps Your Hands Clean
Press the dust release button to pop the dust compartment out, and the dust will be emptied. Only one hand is used to handle the dust compartment, which is quite easy and keeps your hands spotless.
Lock Button Design Frees up Your Fingers & Makes Cleaning Easier
Gently press the lock button once to keep the vacuum cleaner at the current suction mode. Set your fingers free and release yourself when cleaning.

Continuous Mode Enabled

Continuous Mode Disabled
Automatic Electrostatic Discharge Design Eliminates Static Electricity and Keeps Dust from Sticking to the Dust Compartment
The middle section of the handle is equipped with a static discharge device, which can effectively neutralize any static electricity in the vacuum cleaner, eliminating any sparks arcing to the user, and preventing the dust from sticking to the dust compartment.
A Variety of Brush Heads Effectively Help You Clean the Entire House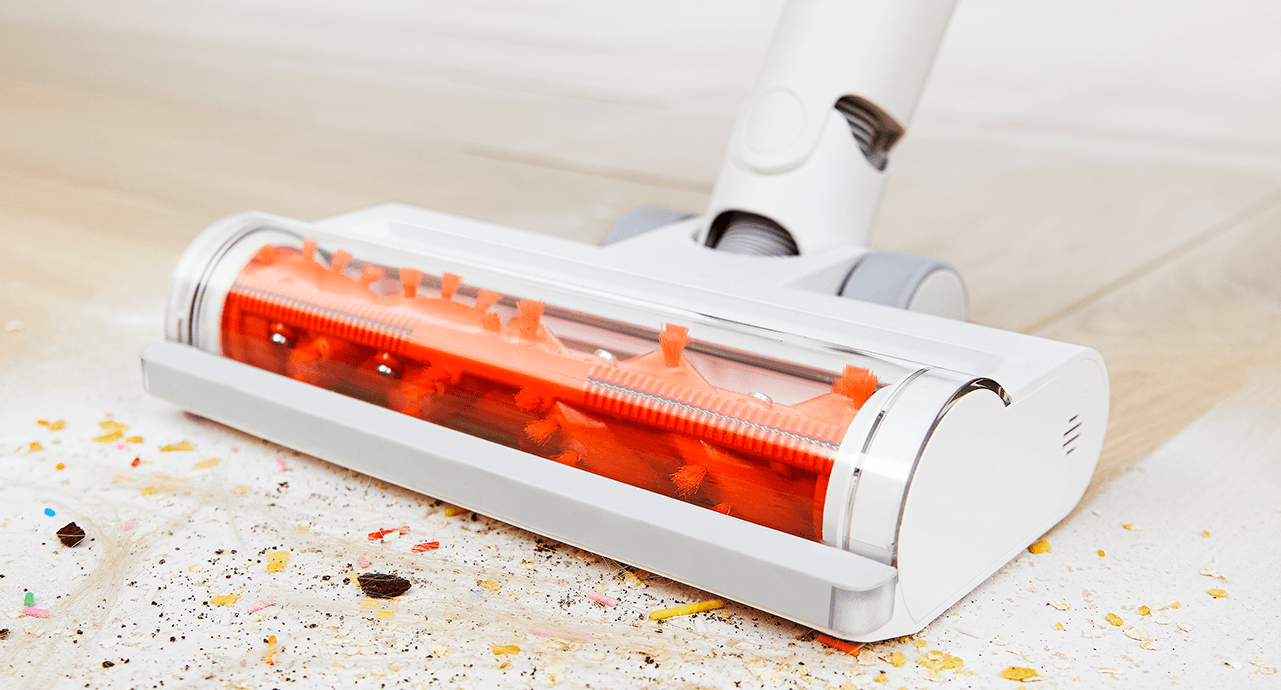 Electric Tangle-free Brush Head
With long bristles, the brush head can provide more effective cleaning. It can also automatically cut any tangled-up hair on it, which makes you worry-free.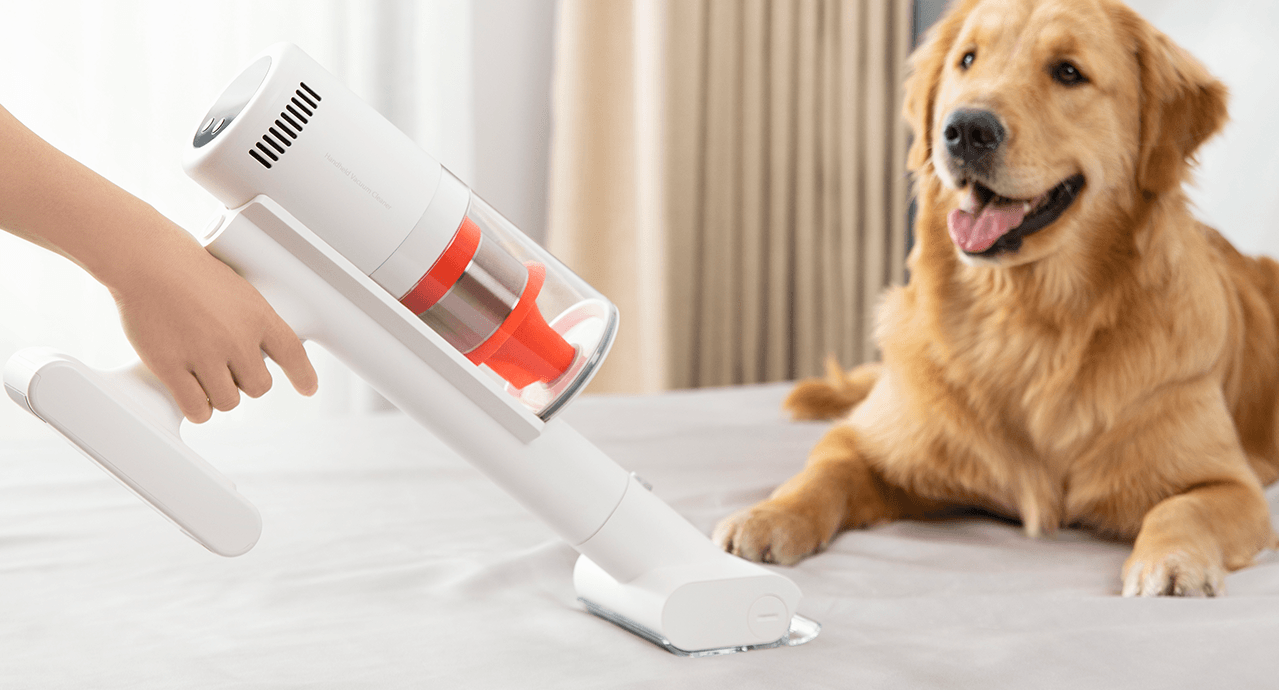 Electric Mite Brush
The high-speed rolling brush hits the fabric surface and then extracts dust mites with powerful suction.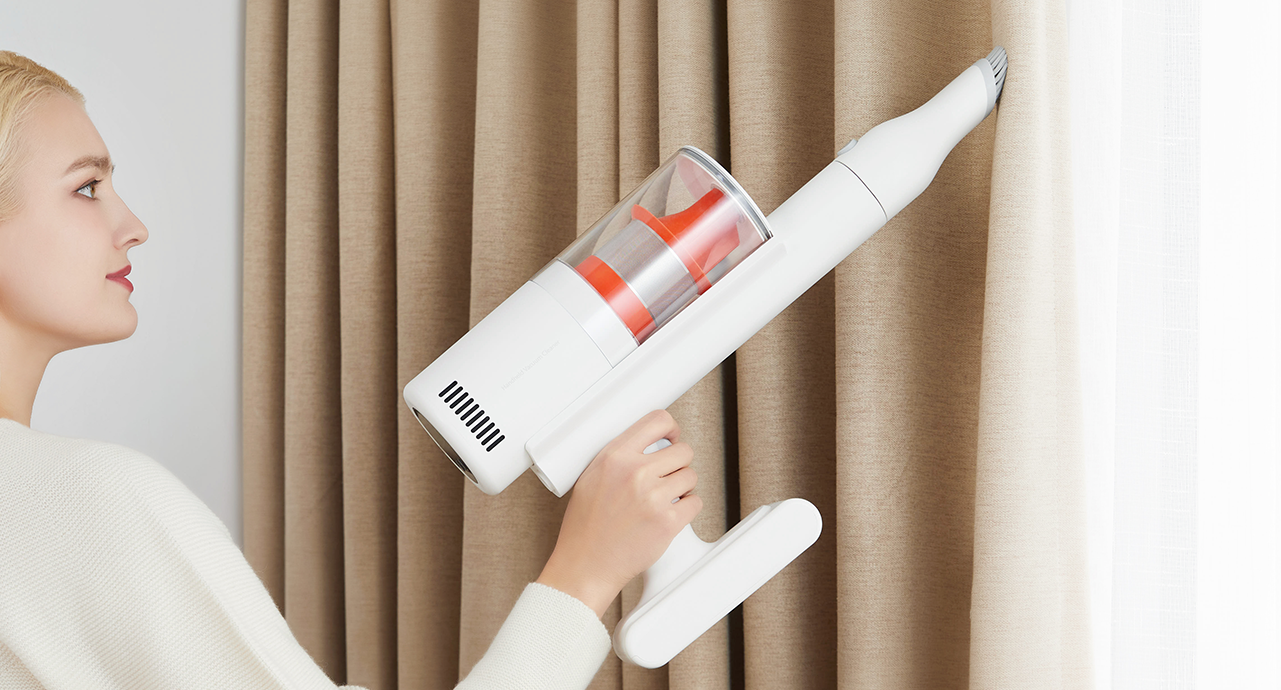 Brush Nozzle
The soft bristles on the nozzle can quickly remove the dust on an object's surface.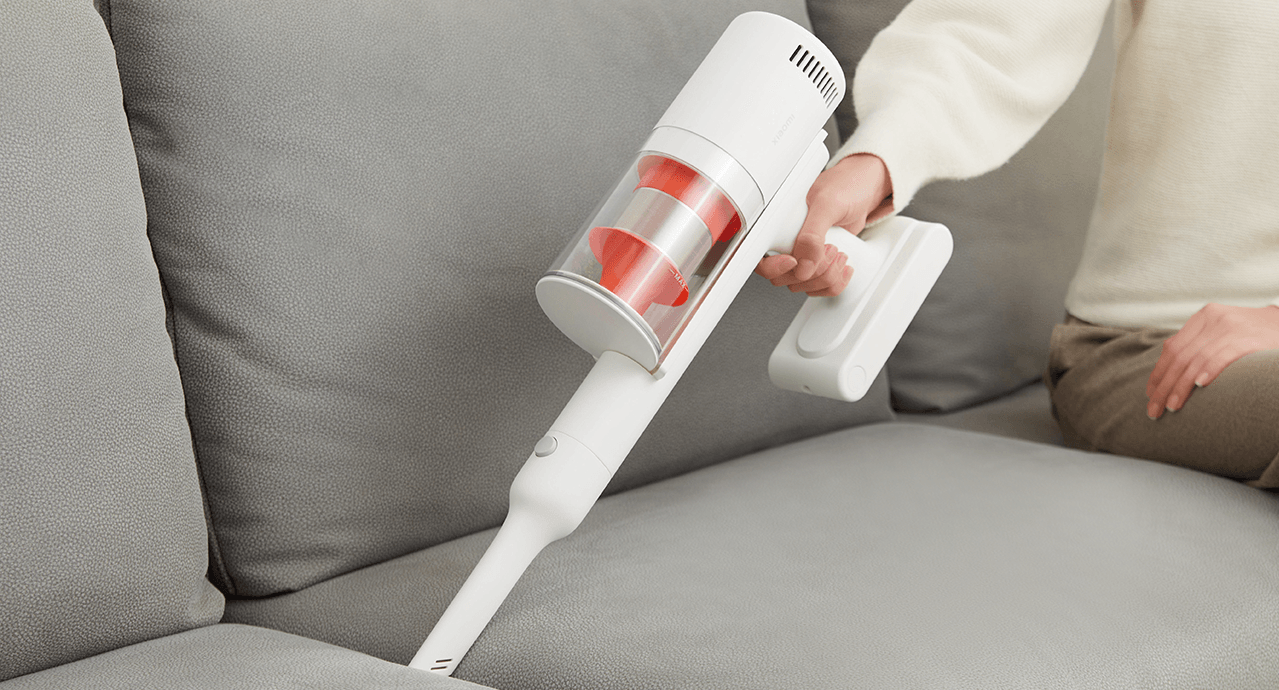 Crevice Nozzle
It has a small and unique size specifically designed for cleaning gaps and narrow spaces.
2-in-1 Charging & Storage Mount Provides Convenient Storage and Charges Two Batteries at the Same Time
The 2-in-1 charging & storage mount can not only store the brushes and nozzles, but also charge the replaceable battery*.
* This product comes with one battery. The replaceable battery is sold separately.
Instructions for the Four Brush Heads
Electric Tangle-free Brush Head

High- and medium-pile carpet

Low-pile carpet

Wooden floor

Ceramic tiles

Electric Mite Brush

Mattresses

Sofas

Brush Nozzle

Tables and chairs

Car interiors

Computer keyboards

Curtains

Crevice Nozzle

Drawers

Gaps on sofas

Ceilings

Wardrobes
3. Electric Mite Brush ×1
4. Electric Tangle-free Brush Head ×1
5. 2-in-1 Charging & Storage Mount × 1(including self-tapping screws ×2, wall plugs ×2)